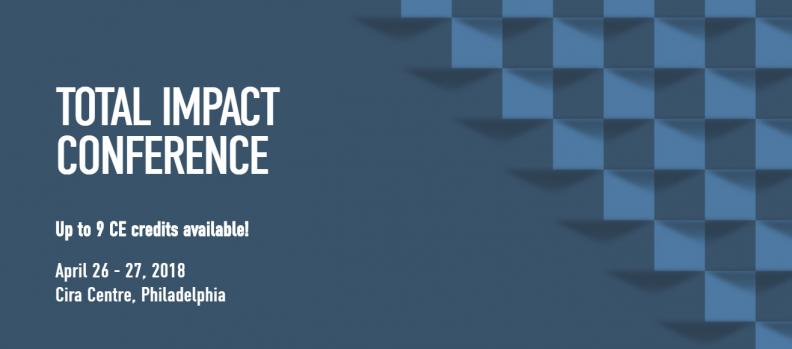 On April 26-27, the first ever Total Impact Conference kicks off in Philadelphia. Total Impact is designed to break down barriers and create conversations around impact investing that are accessible to both the investors and those doing the on-the-ground work. The Total Impact Conference will showcase impact investing experts, academics, practitioners, and development institutions in a packed two-day agenda. It is being held by Good Capital Project, an initiative of SOCAP to educate and convene in the impact investing space, in partnership with ImpactPHL, an initiative to increase investment in companies and organizations in Greater Philadelphia.
We got the chance to speak with John Moore, Executive Chair of ImpactPHL, to learn more about the event, as well see where CDFIs fit into the conversation.
So how did the Total Impact Conference come together?
Both Good Capital Project and ImpactPHL are focused on moving impact investing into the mainstream market, and a critical element of this is creating opportunities for education and conversation. So part of what this conference will tackle are topics like how to define impact, how to measure impact, and practical tools to incorporate impact into investment portfolios.
Why is Philadelphia the space for this conversation?
For starters, Good Capital wanted to do something on the East Coast. Philadelphia has the third highest concentration of independent wealth advisors, who are some of the most likely early adopters in the impact space. ImpactPHL is another key piece, since part of our mission is to connect organizations into the local ecosystem. There really is not another city or region with such a comprehensive organization focused on the impact economy.
Philadelphia is also home to the B Corp movement and the Sustainable Business Network—both serve as models for promoting triple-bottom-line business practices. The largest impact angel network, Investors' Circle, also started in Philadelphia.
Where do you think CDFIs fit into the impact investing field?
Some investors and advisors talk about impact investing it as if it is relatively new. But CDFIs have been doing this work for decades. What is interesting about this opportunity is bringing these two worlds together, connecting intentional social investment with partners like CDFIs that have a tremendous amount of experience.
You have individuals from CDFIs speaking at the Conference, can you speak to some of the topics they will discuss?
CDFIs and others will cover topics like place-based investing, real estate investing, and public-private partnerships, which are areas where CDFIs have a lot of experience. For instance, we are featuring a session on the impact of intentionality by looking at the work of Reinvestment Fund in Philadelphia.
The interesting thing about this conference is we are weaving together national perspectives with local perspectives. Specific impact investments, like the work of Reinvestment Fund, will give an opportunity for the wealth advisors to connect with it on a different level.
There are a lot of asset classes that can be leveraged for the purpose of impact investing. Public equity and private equities are two examples that are not traditionally areas that CDFIs are active in, but that content is still important for a full portfolio. There is an opportunity for people to think about all of their assets.
As a first-time Conference, can you share some of your goals for the event?
A key goal is to see wealth advisors and investors start to move money into impactful investments. If we want people to invest with impact in mind, they have to understand how to do it and know where the opportunities are. So, this isn't just about the theory of impact investing, but an opportunity to meet the people that are doing it and to connect attendees with opportunities to invest. Plus, we know that at least two organizations will be making announcements at Total Impact about new impact investment products.
This event is about education and connecting with people and organizations. We are excited to offer nine CE credits for Certified Financial Planners that attend the conference.
I also want to stress that while the education and networking are important, it should also be a means to an end. What we really want to see is for the connections made at this conference to lead attendees into the space, to locate ways to move money, and make impactful investments.
Another goal I want to highlight is that we want this event to connect our partners with a broader community, both locally and nationally. There has been a real surge in the local ecosystem. Philadelphia is quite different, and there is a lot more activity than we have ever seen. ImpactPHL wants to leverage and accelerate that.
What do you expect in this first year in terms of audience?
The center holds less than 300 people, so we are capped at this number. We expect to be full. One of the great things about Philadelphia is it is a very easy city to get into. We will have a strong contingent of the regional community, including NY, DC and Baltimore and we know people will be flying in from the west coast. The CE credits and the topic of impact is a big part of the draw for the national audience.
What are some highlights you are most looking forward to?
Thursday we will hear from Bart Houlahan, Co-founder of B Lab. Bart is a Philly-based international thought leader, and he will be sharing their story about why they founded B Lab. This session is a really important element of the conversation about how we think about impact, and should enable our attendees to think more deeply about how a specific company might approach being a successful ESG-funded company.
On Friday, David Robinson, NBA Hall of Famer and co-founder of Admiral Capital Group, has an interesting story of growing his initial philanthropy efforts into the Admiral Capital Fund. David used real estate investment to create significant social impact. About six months ago his son joined the fund, so it's demonstrating an interesting trend of intergenerational wealth, and of moving family funds over time.
Jeremy Nowak and his book The New Localism is another key piece of Friday's lineup. It fits well into the conference and is an interesting commentary on the political climate and the movement throughout the country. It plays really well into the mission of ImpactPHL, calling for more action, more governance, and more initiatives from local regional economies.
At the end of the Conference we will celebrate the launch of ImpactPHL Leaders. This is a leadership program that will invite a more formal relationship with our local partners that want to create more impact in the region. We have 20 different partners, showing the diversity of all aspects of impact. The group includes partners like the US Trust, Philanthropy Network, and CDFIs. It also includes peripherally engaged impact organizations like Wharton. In launching this broad coalition of partners focused on building out the ecosystem in Philadelphia, we hope to supercharge the audience with an exciting look forward and by demonstrating a truly unique and wonderful thing that is happening in the country. This type of collaboration is something we are very are proud of and we are excited to celebrate its beginning at Total Impact.
---
You can view more details about the conference and agenda here and register here. Early bird registration is still available for CDFI partners until April 15th.  The Total Impact Conference takes place April 26-27, 2018 at the Cira Centre in Philadelphia.
Can't attend? Follow along on social media @ImpactPHL and #TotalImpactPHL
STAY INFORMED
Get updates on the latest news and information at OFN! View an archive of e-newsletters here!
Related Articles