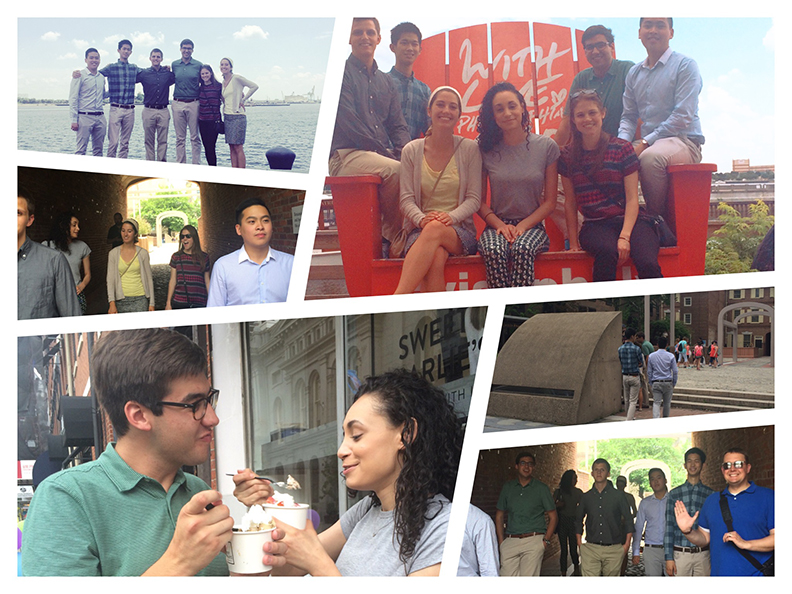 This summer, OFN welcomes seven interns to join our work from June to August. To kick off their time here, OFN staff took the interns on a tour of Philadelphia, exploring some of our favorite spots near the office.
Checking out the Lantern Festival at Franklin Square
(From left to right: Madison Miller, Corporate Innovation and Entrepreneurship and Community, Environment, & Development, Penn State University, Fall '16; Katherine Castillo, Political Science, University of Pittsburgh, Class of '18; Jonathan Pizzutti, Economics and Peace and Justice Studies, Villanova University, Class of '17; Grant Ebbesmeyer, Urban Studies and History, Rhodes College, Class of '17;York Wang, Business and Political Economy, NYU, August '19; Patsy Ackerman, Economic Development, Eastern University, Class of '17; and Aaron Sutarto, Finance and Accounting, Drexel, Class of '18)
The interns caught some amazing views of the city at the Spruce Street Harbor Park.
The interns took a tour of Philly's Old City, including the Benjamin Franklin Museum and the Liberty Bell.
Finishing the day with treats from Sweet Charlie's Ice Cream.
Since the tour, the interns have been busy learning about CDFIs and tackling tasks across all departments. While each intern is working with a specific line of business, they will also collaborate on a group project. In 2014, OFN's summer interns explored connecting the CDFI industry with university students, professors, and administrators. Their efforts culminated in a CDFIs and Universities page on our website and an outreach packet designed to help university advocates—from students to career counselors—raise awareness about the opportunity finance industry. In 2015, our interns looked into other ways such as webinars, on-campus presentations, and one-day events at universities, to connect students and their schools to their local CDFIs. This project resulted in a pilot event in Washington, D.C. in February, 2016. Representatives from Enterprise Community Loan Fund, City First Enterprises and Capital Impact Partners spoke about their work and engaged attendees at a networking reception facilitated by OFN.
We are excited to see what the intern class of 2016 will do!
STAY INFORMED
Get updates on the latest news and information at OFN! View an archive of e-newsletters here!
Related Articles